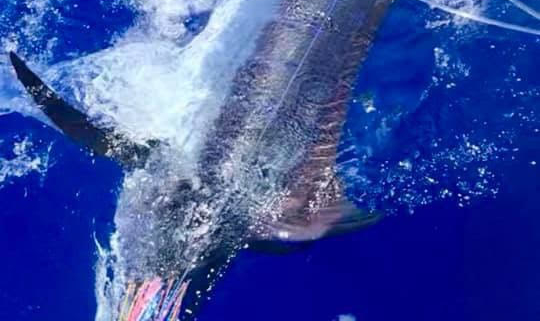 Update from Jodi Bright / Konatournaments.com
TOURNAMENT DATES SHIFT DUE TO STATE RE-OPEN DIALOG!

I've (Jody) finally saw a brief on "the plan" for re-opening the visitor industry in Hawaii….and it really isn't a plan yet. The general idea is open up the local "kama'aina" economy and assess, and then roll out a phased re-opening of tourism.
Even with an exemption from the Governor to run as scheduled, it appears that mainland travel will not be "back to normal" by early July.

With this in mind, it looks like the June and July months will be early in this process, so we are making plans to shift the tournament schedule so we don't get caught up in any State ordered delays, and Not Cancel Any Tournaments.

The HIBT has cancelled so we are planning to shift the Firecracker, Kona Throw Down and Skins to that week, August 8 through 16.
The It's A Wrap will be September 18, 19 & 20

We will plan the Kona Kick Off with move it into July, and run in on consecutive weekends with the Lure Makers Challenge.
So the 2020 summer schedule will be:


KONA KICK OFF JULY 4 & 5
LURE MAKERS JULY 10, 11 & 12
FIRECRACKER AUGUST 8 & 9
KONA THROW DOWN AUGUST 11, 12 & 13
SKINS MARLIN DERBY AUGUST 14, 15 & 16
BIMT AUGUST 21, 22 & 23
IT'S A WRAP SEPTEMBER 18, 19 & 20


The Hawaii Big Game Club Rock n Reel tournament has been postponed, and does not have a replacement date as of yet.

Please feel free to give me a call to discuss if you like. I'm putting out this notice to get feedback, but I'm 99% sure that this is the right move, based on what I read today.

Jody Bright's cell is 808.557.0908
Quotes from the article:
State agencies are studying how to ensure public health and safety while opening up sectors of the economy, including tourism, according to Krishna Jayaram, a spokesman for the AG's office.
"The various ideas being evaluated for tracking visitors in response to the COVID-19 pandemic, are right now just that, ideas," he said in an emailed statement. "Given that we are an island state heavily dependent on tourism, there is focus and forward planning now on how we can get back closer to normal while adequately ensuring that any influx of visitors does not put our residents at risk."
It's a very short hop from 'It's OK for tourists' to 'It's OK for any number of other groups,'" she said.
Asked about this concern, Jayaram acknowledged that life will likely be different post-COVID-19. "I do hope we get closer to how things used to be before the pandemic, but part of the new normal might be that the state has to re-think certain aspects of the tourist experience here in Hawaii," he said.

"There's a way to phase in letting people back in while watching for signs of infections and taking practical, limited steps to test people, without infringing upon their liberty to move around with government supervision."

Stay Well!
Copyright © 2020 Konatournaments, All rights reserved.
We stay in touch with everyone who has participated in an event of the Hawaii Marlin Tournament Series and bring you news from Kona – where ever you are.

Our mailing address is:
jody@kkonatournaments.com
Konatournaments
P.O. Box 2158 Kailua-Kona, HI 96745
Kona Tournaments 2020
https://firehattsportfishing.com/wp-content/uploads/2019/04/unnamed-1.jpg
960
540
linda
https://firehattsportfishing.com/wp-content/uploads/2014/01/Fire-Hatt-Sport-Fishing-Kona-Logo2-300x53.jpg
linda
2020-04-29 19:18:00
2021-06-03 04:02:23
Kona Tournaments 2020